Plenty to Offer
Skybrook is built around an 18-hole championship golf course designed by John LaFoy that boasts rolling fairways with incredibly scenic views. Additional amenities include a swim and racket club, playgrounds, ball fields, nature trails and fishing pond. Skybrook is convenient to the North Carolina Research Center, University of North Carolina Charlotte, shopping, entertainment and excellent public and private schools. It's a great place to call home.
Latest News
Get the Scoop on Skybrook Updates & Events
Click
here
to read about the latest community news and summer highlights.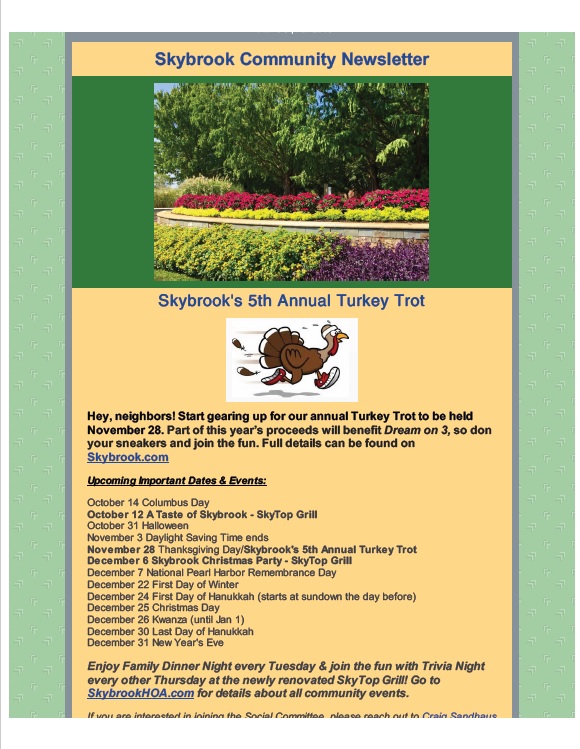 Upcoming Events
Check out the Full Calendar for a complete list of events.

Autumn Yard Maintenance

Not only have the temperatures dropped, but most of the leaves have followed suit as well. The lack of leaves after autumn allows you to easily identify branches and limbs requiring removal - making your job a little easier.
The number and variety of trees in Skybrook help make our community one of the most beautiful in the area, and proper maintenance will help ensure their continued appeal. Below are a few helpful points from the Skybrook Community Rules and Regulations Guidebook to keep in mind:
Street trees throughout the neighborhood sidewalk strip area were selected by the developer as part of the neighborhood landscape plan and cannot be changed to another type of tree by the homeowner.
The number and spacing of trees in the sidewalk strip was also defined by the neighborhood landscape plan and cannot be changed by the homeowner.
It is the responsibility of the homeowner to replace deceased street trees with the same type of tree, comparable in size and height of the existing adjacent street trees (in no case may the replacement trees be smaller that 3-4" in diameter and 8' in height).
Homeowners are required to prune limbs so that street and stop signs are not blocked and pedestrians have a clear walking path on sidewalks (7' for cherry trees and 8-10' for other types of trees).
After mowing, please do not blow your grass clippings into the street. Not only are they an eyesore, but the clippings may clog storm drains or become a pollutant to our lakes, ponds and streams. The U.S. EPA states that phosphorus from grass is one of the most troublesome pollutants in storm water runoff because it causes unwanted and uncontrolled growth of algae and aquatic weeds in the waterways. Be a good neighbor and either bag your clippings, or leave them on your yard.