Plenty to Offer
Skybrook is built around an 18-hole championship golf course designed by John LaFoy that boasts rolling fairways with incredibly scenic views. Additional amenities include a swim and racket club, playgrounds, ball fields, nature trails and fishing pond. Skybrook is convenient to the North Carolina Research Center, University of North Carolina Charlotte, shopping, entertainment and excellent public and private schools. It's a great place to call home.
Latest News
Golf Contribution Plan Key Takeaways
Click here for a summary of takeaways from the informational meetings held earlier this month. Please vote "Yes" by June 25!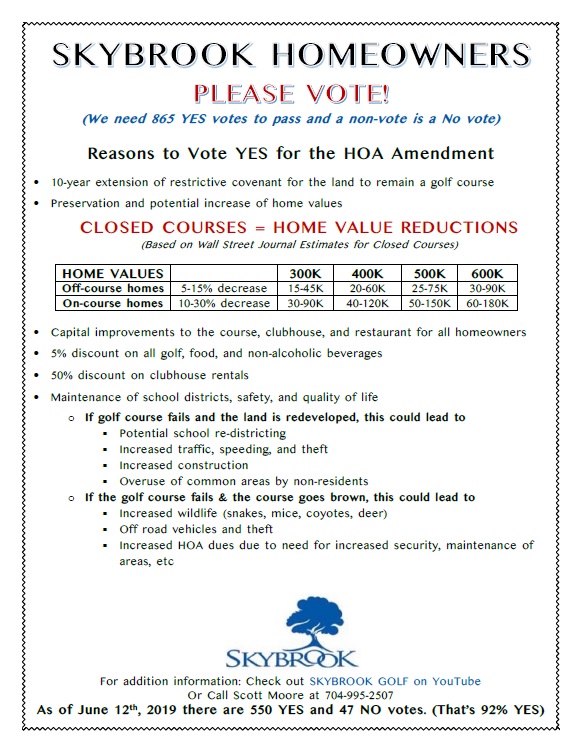 Upcoming Events
Check out the Full Calendar for a complete list of events.

Skybrook Golf Contribution Plan
Dear Neighbors,
As many of you know, this past year the golf course was for sale and being marketed for real estate development. This would have been a disaster for our community if this were to have happened. We were saved from this, when on April 2nd, the golf course was purchased by Skybrook Golf, LLC (an affiliate of the original developer of Skybrook and Pinnacle Golf Properties, LLC, the current manager). However, to ensure the success of the golf course Skybrook golf needs our support.
Your HOA supports an amendment to the Master Declaration of Covenants, Conditions and Restrictions of Skybrook, and would like you to vote 'yes' on June 25th. In essence, the plan will protect the property values of the Skybrook homeowners, and enhance the overall aesthetics of our beautiful community. The HOA increase is primarily to help maintain property value. Property values will be maintained only if the golf course and club remain as a golf course and club. The HOA's financial commitment helps ensure the course and club remain viable long-term. Please vote 'yes' on June 25th.
Respectfully,
Craig Sandhaus
President Skybrook HOA
Community Letter
Written Consent to Amendment
Amendment to Master Declaration
Joint Use and Cost Sharing Agreement